Alaheo Pau'ole (Gone Forever) is the 12th episode of Season 2 in the remake version of Hawaii Five-0.
Plot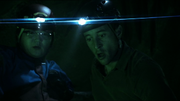 Hawaii Five-0 investigate when the body of a man is found in an abandoned World War II bunker but when Steve McGarrett and Max Bergman head into the bunker for a closer look, they discover to their disbelief and horror that the man is actually alive.
A while later, Agent Lori Weston tells the team that the man has been brought in the hospital and that the man is also in a medically-induced coma.
The team later join forces with Captain Vince Fryer.
They soon interview Sharon Archer whose husband, Dennis is the man they found in the bunker with Sharon revealing that their son, Sean disappeared and that Dennis went to great lengths to get any and all information on the case.
Furthermore, there was a girl named Bridgett Turner who was believed to have been romantically involved with Sean.
It's soon revealed that Turner is dead and that she and the owner of the hut were involved in a scam to claim the award that the Archers were offering for their missing son.
Eventually, the killer, Richard Lack is discovered and gives up the location of Sean Archer's remains, finally solving the case.
Notes
It's revealed that Vince Fryer has been promoted to Chief of Detectives.
The team celebrate Chin getting married to his fiance, Dr. Malia Waincroft.
Cast
Main
Recurring/Guest Starring
Others
| Name | Portrayed by | Role |
| --- | --- | --- |
| Shane | Joe Reegan | A man who appears in the episode. |
| Sharon Archer | Gail O'Grady | Dennis Archer's wife and Sean Archer's mother. |
| Tully | Reyn Mager Aubrey | A man who appears in the episode. |
| Jimmy | Chase Bridgman | A man who appears in the episode. |
| Mitch Kolat | Michael Buie | A man who appears in the episode. |
| Priest | Kordell Kekoa | A man who appears in the episode. |