Alex O'Loughlin (born August 24, 1976) is an Australian actor who portrays Commander Steve McGarrett on the Hawaii Five-0.
Life & Career
[
]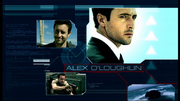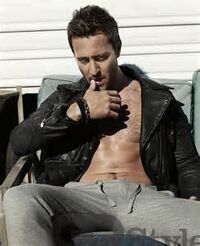 Alexander O'Loughlin was born in Canberra, Australia. Is of Irish and Scottish descent. He was educated at Macquarie Primary School, where his younger sister Jennifer also studied. His father is a physics and astronomy teacher in Sydney and his mother is a nurse.
Alex suffered from asthma, Attention Deficit Hyperactivity Disorder (ADHD) and obsessive-compulsive disorder (OCD) when he was a boy. He wanted to become a jet fighter pilot but was told by his teacher that it was unlikely due to his asthma.
This was a painful memory for him that recently evoked the response, "Always teach children to reach for the stars." He is a fan of heavy metal music and Monkey.
Playing dress up with items out of an old trunk was one of his favorite pastimes. School was a continuous struggle, caused by learning difficulties that were compounded by ADHD and OCD, and he left when he was 14, after which he held jobs in a wide range of fields. He enrolled at the National Institute of Dramatic Art (NIDA) in Sydney, Australia, in 1999.
Despite a challenging first year, he graduated from NIDA in June 2002 after completing a 3-year, full-time Bachelor of Dramatic Art program.
Tattoos:
Alex is significantly inked. A report on buddytv.com at that time said he was "inked on each forearm, on each shoulder, over his right nipple and one on his lower back." He has added additional temporary tattoos for some roles, and covered them up for others.
Notes
[
]
Trivia
[
]
Was once considered as a possible candidate to play James Bond.
Celebrates his birthday on August 24, making him a day younger than Scott Caan / Danny Williams.
Guest-starred on the fellow CBS crime drama, "Criminal Minds" in the Season Four episode, "The Big Wheel" where he played OCD-ridden serial killer, Vincent Rowlings.
Is an organ donor.
Has three kids, 22-year-old Saxon, 7 year old Lion, and 10 year old step son Spike.
Loves the show "So you think you can Dance"
Aaron Wright used the Alias of Mick St John to get to Hawaii, Mick St John was the name Alex O'Loughlin's character in Moonlight.
Hawaii Episode Guide
[
]
Director
[
]
External links
[
]