'Hawaii Five-0' Profile: Catherine Rollins
Play Sound
Lieutenant Catherine "Cath" Rollins, USN (Rtd.) is the girlfriend of Steve McGarrett. How or when they met is never fully explained, but it has been implied that they have known each other for a long time. It has also been implied that they met during their time at the Naval Academy.
Biography
[
]
Early life
[
]
Catherine is a "Navy brat" and moved around frequently due to her father's various assignments. During Pro Bowl weekend, when asked why she supported the Dallas Cowboys, she explained that she had never stayed in any one place long enough to feel an affinity for an NFL team. She herself joined the Navy and is a former intelligence officer. Like Steve, her military service record remains vague. She previously dated William "Billy" Harrington, one of Steve's SEAL buddies whom she had worked with.
[

]
2002
[
]
Steve asked Catherine out to the Army-Navy Gala at West Point. He called her after a mission in Afghanistan landed him in the hospital. Catherine was seen working in Operations on a Navy warship (potentially the U.S.S. Enterprise) when she received the call. She said "yes" to going out with him.
2006
[
]
Catherine was part of a special naval unit that went from village to village, speaking Afghan women. The mission was partially outreach and part intelligence gathering. She and her unit entered Baoakhan Province to speak to the local women, and when Najib went after a soccer ball that was kicked too hard, Catherine spotted him heading towards a field and yelled at him in Pashto not to go out there and chased after him. She caught up to Najib and told him it was dangerous out there as there were landmines and if he was to step on one, he would go boom. Amir then came over and called Najib to him.
Catherine pulled out her satellite phone and called Billy, asking for a favor. A machine was brought over to get the soccer ball back safety. Catherine was able to give Najib back his ball.
2007
[
]
Catherine did a recon surveillance operation that had gone sideways. She got separated from her unit when it came under fire. She suffered GSW to the leg, a broken arm and a broken vertebra. She had no satellite phone, no radio, and she was completely cut off from her unit. That was when Amir and his son, Najib, found her and she pulled her weapon on them, but Amir told her that they were not the enemy. Amir then offered Catherine his help and she accepted.
Amir brought Catherine back to his home, to the disbelief of his wife. Amir removed the bullet from her leg and bandaged it up. As he was about to move away, Catherine tearfully grabbed his arm and gave her thanks to him.
A few days later, Catherine was playing a game with Najib when Amir rushed into the house. He told Catherine to go outside quickly, as the Taliban were coming. As the Taliban searched Amir's house, Catherine was hidden in the well out front. She was pulled out by Amir and his wife when the Taliban drove away.
The next day, Catherine left the village, flagged down a U.S. military convoy and made it back to base. For his own safety from the Taliban, Catherine never mentioned Amir or his family to anyone.
Season 1
[
]
Catherine made her debut appearance in Lanakila when Steve calls her for a favor. Catherine tells Steve he's like the good-looking guy from high school who knows how cute he is and just won't take no for an answer. Chin is impressed with Steve's multi-tasking skills getting Catherine to both recon a satellite and agree to a date.
In "Nalowale", Catherine is revealed to be McGarrett's girlfriend. The two wake up in bed together and Steve tells her he thinks he owes her dinner. They joke that they never quite make it to dinner. Their morning gets interrupted when Governor Jameson calls and ruins Steve's day off.
After Steve leaves, Catherine runs into his sister, Mary, who jokes that Catherine and Steve had a "big night" last night.
Later, Steve calls Catherine asking her for another favor related to his case.
Reunited with Catherine that evening, they finally get to having dinner on the beach.
In "Kai e'e", Catherine and Steve race downstairs to answer their phones as a tsunami warning sounds in the background. Catherine tells her commander she can be back at base in 10, immediately followed by Steve telling the governor he can be there in 5. They kiss before rushing off to their jobs.
Season 2
[
]
In Mae Makamae Steve tells Danny he needs to go meet someone. He picks a flower and brings it to Catherine while he asks for two favors: one about his current case and a second favor about the status of something Joe White submitted to the DOD.
Steve finds Catherine waiting for him in his office. She tells him she needs a rain check on dinner because orders came in and she's being sent to the gulf that night. She tells Steve the DOD hasn't received anything from Joe White. As she goes to leave Steve tells her that when she gets some leave time in the next few months they should meet halfway like in Mumbai. She smiles and tells him she likes Indian food. Both looking sad, they share an emotional goodbye hug.
In I Helu Pu, Catherine returns on a 48-hour leave and attends the Governor's charity ball as Steve's date. Catherine jokes with the team that McGarrett forgot that it was Valentine's Day.
Later, Steve shows up at Catherine's hotel room in his fatigues bringing her chocolates for Valentine's Day. Steve tells her that since their weekend was ruined, he put in a request to do his reserve duty on her ship. They kiss and she tells him that's way better than chocolates.
Season 3
[
]
In the premiere, Catherine is seen at the safe house where Doris is, and Steve asks her to watch over Doris. Next week, she is seen seducing and extracting information from Agent Channing, about Doris's whereabouts. Catherine makes an appearance as a roller derby jammer on Naki'i, and then accompanies Steve to North Korea a week later, to retrieve the body of Freddy Heart. In "Ho'opio", Catherine is at Kamekona's Sumo Smash 'Em Challenge with Steve and Danny. Both Danny and her make fun of Steve's new haircut.
Later in the day, she is seen exiting the surf with her surfboard in hand, Kono is waiting for her on the beach. Kono asks for a favor. Catherine comments that Steve is usually the one that asks her for favors and asks if he sent Kono to do his dirty work. Kono says no and that the favor is for her. Kono asks Catherine to run off-the-books Intel on Sato and if she could keep the request between the two of them. Catherine says she won't lie to Steve of he asks, but Kono says that Steve won't ask cause he doesn't know anything about this.
Catherine later rings Kono at Five-O Headquarters. She asks Kono if she alone, before emailing Kono a full Intel package on Riku Sato. Catherine suggests that Kono tell Steve that Adam is getting involved with the Yakuza.
In "He Welo 'oihana", Catherine walks into Five-O headquarters and asks to speak with Steve privately. Going into his office, Catherine tells Steve that an FBI agent, Kevin Hobbs, told her something off the record that he should know. Catherine then hands Steve a file, that has evidence of his mother hacking into the National Fingerprint Database.
Catherine is later seen at the hospital visiting Kono after she got shot in the stomach.
In "Aloha, Malama Pono", Catherine is seen at Joint Base Pearl Harbor-Hickam speaking to Steve on the phone. She says she Id-ed the victims as GS-8 through the Department of Agriculture. The plane was being used by CIA to transfer ghost detainees to black sites for interrogations. She says she's got nothing on the prisoner that was being transferred and nothing on the bloody fingerprints that were found.
Catherine finishes her phone call and runs into Billy Harrington, an ex-boyfriend. She smiles and hugs him, Billy tells her that he is retiring from the Navy. Catherine asks him what he'll be doing with his next, and he offers to tell her over dinner. Catherine sadly says that she's seeing someone at the moment. Billy correctly guesses that she is with Steve, and says that he thought that was over. Catherine says things change. Billy then comments, if things change again that he'll staying at the Ilikai before hugging Catherine again and parting ways. 
Catherine is later at the NAVY Op Center giving Steve directions by phone, she's tracking the suspect through satellites. 
After interrogating the suspect, Steve calls Catherine to let her know that the terrorist target is San Francisco.
That night Catherine is at the docks to see Adam off as he goes into hiding. She is shocked when Kono says that she's going with Adam. Catherine hugs Kono before she leaves and says she'll miss her.
Season 4
[
]
In "Aloha ke kahi I ke kahi", Catherine is running along Bellows Beach. She's stopped by a military man, who tells her of the situation at Five-0 headquarters and says that she should go down there.
Catherine is then driving towards headquarters when her car's engine overheats. She pulls over to check under the hood when a tow truck stops next to her asking if she needs any help.
She is then taken hostage and her captors use her phone to call Steve. Her captors demand that they get their people back or Catherine will never be seen again. Catherine yells for Steve to not do it and is slapped across the face and kicked in the gut. Her captors gives Steve 10 minutes to release his people before hanging up.
After releasing the captors, Steve finds Catherine with her hands tied up and wandering around Ka'era Point. Steve runs to her and cuts her bindings, asking if she's okay. She says she is and Steve hugs her tightly and kisses her. Catherine says that Steve shouldn't have let the terrorists go, but Steve replies that they only think they've gotten away.
Catherine, Steve and Danny meet back up with Chin before getting surrounded by HPD SWAT. After agreeing to settle their argument later, both teams go after the terrorists. She is seen opening fire on the terrorist's overturned car when it's found heading towards their stolen helicopter. A ceasefire is called and 5-O move in towards the car. Catherine comments that they're all dead but the driver is missing. She then notices that Steve is gone. She spots Steve running after the driver as he heads towards the helicopter.
When Steve lands the helicopter in the parking lot, Catherine runs over to him. As Steve climbs out with the help of Danny she offers to buy a round beer for the tough day they're had. Catherine helps Steve walk away and asks him how he managed to catch up with the helicopter, she listens in fascination as Steve spins his story.
In "A'ale Ma'a Wau", Catherine is at the 6th game of the Pee Wee Championship, her team - the Navy Brats - are versing Danny and Steve's team - the Honolulu Shrimps. As Danny calls a timeout to talk to Grace, Catherine calls out to ask if they're going to keeping talking or are they going to play some ball. When Steve calls out Kamekona on his 3rd strike on Grace, Catherine comments to her team that what Steve is doing is not good sportsmanship.
Later in the day, Steve calls Catherine down to headquarters. She asks if everything is okay, Steve says it is. She then mentions that she heard that Billy stopped by and the reason she didn't mention anything about leaving the Navy was that she wasn't sure if she would do it. And that was a decision she had to make on her own. Steve asks her if she needed to make it on her own or with Billy. Catherine says her CO told Billy. She was thinking about resigning but she hasn't even submitted her letter yet. Steve realizes that Catherine is actually serious about leaving the ut Navy. Catherine states that she's spent half her life within the Navy, she needs to start thinking about what comes next.
Steve then asks why she turned down Billy's job offer, Catherine replies that it wasn't right for her. Steve disagrees and says the job is tailor made for her and he doesn't understand why she said no. Catherine replies it's because she's really happy right now and things are good between her and Steve. She doesn't want a job, even if it's the perfect job, to get in the way of that. They're both interrupted by Chin about the latest case before they can continue. Steve apologizes for the interruption and then tells her he'll miss her in her cammies with a smiles. The tells her he's got to go.
The next day, at the 7th game, if the Pee Wee Championship Catherine is with her team, Steve brushes passes her and tels her to take the job. Catherine tries to argue but Steve says they're good and nothing will change that. Catherine laughs, hugs Steve and pulls him into a kiss. This causes the crowd watching the game to cheer them on and Kamekona calls a timeout as everyone is watching. They break apart and apologize to everyone, the game continues.
In "A ia la aku", Catherine is with Steve on a double date with Danny and Gabby at the movies. She eats Steve's popcorn while Danny explains to Steve the third act of a movie. She apologizes when the group is shushed by the usher. She can't believe it when Steve's phone rings during the movie. He only shrugs and says that he's on duty still. Gabby moves to the seat next to Catherine and they both sigh in relief as both men leave the movie theater.
Catherine is waiting in Steve's office wearing a feminine pantsuit. Steve whistles at her outfit as he enters and says she looking sharp. Catherine says Billy and her are running personal security on a visiting diplomat from Saudi. She mentions that she know that woman dress modestly from Saudi, the way the diplomat looks at her you think that she was wearing a string bikini. Steve jokingly offers to beat him up if she tells him the diplomat's name. Catherine says that's exactly what she getting paid to prevent. 
Catherine then says that leads to the reason she's here. Steve says he thought she was just here to show off her new pantsuit. Catherine calls him a smartass and says she needs a favor. Steve asks what she needs. Catherine says the client has a packed schedule for the next day and Billy has asked Catherine to run some threat assessments on the people the client is meeting with. Steve guesses at because Catherine doesn't have access to Navy Intel anymore, she's come to Five-O to run the background checks. Catherine smiles and says Steve is handsome and smart. 
Steve says he's not sure of he feels about allocating Five-O resources to a private security job. Catherine scoffs and reminds Steve about how many satellites she has repositioned for him over the years. She says he owes her. Steve was just joking and tells her to relax. He then goes to log her into the system.
Billy drops Catherine at Steve's home after work. In the car he says that part of him had doubts they could make it work, after seeing Catherine in action, he knows he made the right choice. Catherine thanks him, but says it sounds like he's congratulating himself. Billy says it kind of did, didn't it, causing Catherine to laugh. Catherine exits the car and Billy says he'll pick her up at 8 the next morning. Catherine says coffee and malasadas are on him and Billy agrees. Billy watches wistfully as Catherine walks up to the house. 
Steve is in his pajamas waiting for her on the patio, he mentions that he couldn't sleep and wanted to make sure she got home okay. He asks her how her first day was. Catherine says its big change but in a good way, Steve says that's good. She mentions that Billy has already gotten them another gig and she they're going to be busy. Steve says he's glad, as Catherine leans in and gives him a kiss. Catherine then says she's going to wash up, and asks if Steve could open a bottle of wine.
In Kupu'eu, Catherine and Billy are at Makapu'u Point running surveillance from a van on a house. Catherine is watching a couple make out through with a window with binoculars while Billy listens to the audio. Catherine says she's lost visual when the couple tumble onto the bed, Billy says luckily the audio's alive and well. Catherine says she doesn't think their client is going to need this much evidence of her husband's infidelity. She says a simple photo of the couple kissing would convince their client. Billy replies that they were paid to get the true and that's what they're going to do. 
Catherine asks how long the couple have been in the room, to which Billy replies, 3 very long hours. Catherine complains that her butt is numb, and Billy counters that he's drunk 4 bottles of coconut water. Catherine says she warned him, and suggests he could use one of the empty bottles if he really needs to go. Billy comments that he's a trained SEAL and he can hold it. 
Billy then points out that it looks like the couple I'd finishing, which Catherine is happy about. She wants to go home and shower, and maybe bleach her brain on what they saw. Billy asks if she going to quit on him. Catherine is shocked and asks where that comes from. Billy replies that when he offered her this job he promised her an exciting post-Navy life, world travel, intelligence gathering. Catherine points out that last week they protected a foreign diplomat, Billy counters and asks this week she a peeping Tom. Catherine just says it practise of her surveillance skills. 
As one half of the couple leaves, Billy says they just wait for the husband to leave before he takes her home. He asks her before he drops her off does she want to get some pancakes, which Catherine says sounds good. 
Before they can leave a new car pulls up to the house. Catherine pulls out her binoculars and watches another man enter the house. She notices the man has a gun and alerts Billy. Catherine and Billy both get their guns and exit the van. They hear gunshots and make their way closer to the house. Billy yells for the man to drop his weapon, but he opens fire on Billy causing him to duck behind some trees. The man pulls out an auto gun and start shooting at both Catherine and Billy as he tries to escape. The man manages to shoot Catherine in the arm, Billy asks if she's OK, she says she's fine. The man gets to his car and fires off a few more rounds, this time hitting Billy in the stomach and he goes down. Catherine gets back up and fires at the car tail lights as the man drives away, while making her way to the fallen down Billy. She tells him he's going to be fine as she open his jacket the see the damage. Billy struggles to stay awake, while Catherine tells him he's not going to die tonight. 
Catherine has managed to get Billy into the van and drives him to the hospital, yelling at him to stay with her. Billy says he's not going anywhere and that she got the excitement he promised. Catherine says this is not what she had in mind. Catherine drives up to the emergency entrance, honking the van horn loudly. As she pulls Billy out of the van, doctors and nurses come rushing out. She tells the doctor Billy's injuries and what blood type he is - O-neg - while helping into the gurney. The doctor notices that she's injured too, but Catherine says fine. She watches as Billy is wheeled into the hospital. Catherine then passes out due to blood loss.
Catherine wakes up in a hospital bed with Steve sitting next to her. She confused and disorientated, she asks Steve where she is. Steve replies she in the hospital and to take it easy. He asks her if she remembers what happened, reminding her she was on a stakeout with Billy. She does remember and then asks if Billy is alright. Steve doesn't answer straight away and then painfully tells Catherine that Billy is gone. He coded on the table and the doctors couldn't revive him.. Catherine starts to cry , Steve tells her he's so sorry and kisses her head.
Later on Catherine takes out her IV, as Steve tells her she can't do that. Catherine mentions that she was in such a hurry to get Billy to the hospital she forgot to call in the shooting of the husband. She needs to get back to the house. Steve tells her she needs to stay at the hospital and rest. He tells him he'll call the police and then go to the crime scene. Catherine says good and that she going, too. She can't stand by and do nothing while Billy's killer is still out there, Steve of all people should understand that. Steve folds. 
In the morning, Catherine arrives at the crime scene with Steve. Duke meets them and suggests they look for themselves. They walk into the house and are surprised that the house is completely cleaned, no blood, no bullet holes. Catherine insists that there was blood and that it doesn't make sense. Steve asks if there's a chance she got the address wrong, Catherine says someone must have scrubbed the place while she was unconscious. She takes off her sling and points out where the victim's body was and that the walls have got still wet paint on them. Someone cleaned the crime scene. 
Steve takes Catherine to headquarters and asks about her case, trying to figure out who would have motive. When Danny comes back to headquarters, Catherine says he didn't need to rush back and asked if Grace will be disappointed that he's not cheering on, Danny says no because last year the judges had said he was too distracting. Danny hugs her and tells her that he's sorry. 
Later in the day Steve helps Catherine change her arm bandage. Catherine is there every step of the way to find out who killed the victim as their death resulted in Billy's.
Catherine goes to Billy's funeral and speaks to Billy's father at the wake. Afterward,s she tells Steve that she feels Billy's death is her fault, as she was supposed to have his back. Steve her not to do that to herself and hugs her as she cries. 
In "Kupouli ʻla", Catherine is running at night, reliving the moments that Billy was shot, taken to the hospital and then, finally, his funeral. She runs through Steve's door just as he's giving candy out to trick-or-treaters, he tells her her costume needs some work and offers her some candy, which she rejects. Steve tells Catherine that she needs to stop punishing herself for Billy's death. He tells her he knows exactly what's she going through, he's been exactly where she is now. She needs to stop carrying the weight of that night, stop reimagining the situation in all the ways she could have done something different. He tells not to forget but forgive herself and give herself a chance to move on. 
Catherine says she wants to but she doesn't know how to do so. Her whole life was the Navy, she had a purpose and now that's all gone. Steve tells her she's gotta find something, it doesn't have to be a job, does put matter what it is she just has to find something. Putting her life on hold won't bring Billy back, Catherine agrees. 
Catherine goes to headquarters and puts a file on Chin's desk. He asks her what's in it, she tells him it's FBI's forensic accounting files on the yakuza. She comments that Riku Sato has been laundering a lot of money through Hawaii lately. Chin asks her where she got the file, which Catherine replies a friend in the bureau. Chine then asks if Steve knows she's doing this. She says not yet, but she knows that Chin's been trying to find out where Sato is keeping Adam and she wants to help.chin says okay and for Catherine to tell him everything she knows.
She points out Sato's deposits, there's no way Sato's running that kind of money through Hawaii without having someone here to watch it. They need to identify that person and they lead them to Sato. Chin says he knows Catherine already has an idea of who that person is. She does, Ryu Nabushi, listed as an officer on three of the accounts, showed up in Hawaii around the time the cash started to flow in. On paper he's clean, but Catherine thinks that's a cover. Her best bet is that Nabushi is Sato's moneyman. 
Chin thanks Catherine, he promised Kono he'd find Adam and this is his best lead yet. But he can't involve her any further. Catherine says he can. She lost Billy, she's not about to lose another friend.
Catherine wearing a red wig, goes undercover at the hotel Nabushi is staying at. She follows Nabushi to the elevators while pretending to be on her phone. She manages to get photos of Nabushi as he enters the elevator and quickly asks him to hold the elevator door as she enters it. Nabushi and Catherine make flirty small talk on the way up, Catherine also manages to see which floor he is staying on. When Nabushi exits on his floor and the doors have closed again, Catherine pulls out a small device that brings up Nabushi's fingerprint from the elevator floor button she asked him to press for her. She takes a photo of it and saves it. 
That night Catherine is back at Steve's house, pouring over a table full of information on Sato and Nabushi. She looks up when Steve enters the house with dinner. He says he thought she could do with some dinner and says it looks like she's been busy. She says she just taking his advice, Steve nods and then asks her what's the plan.
In "Ua Nalohia", Catherine is getting ready to go undercover at a private club. Steve, having just got out of the shower, says he's not comfortable with Catherine going alone. But Catherine says that everyone on the island knows what Steve and the rest of 5-O look like. If they go in their suspects will be out the back door and gone, she says she'll be fine. Steve asks what will she do if she's compromised, Catherine, with a smile, says she'll improvise. Steve then goes over to a drawer and pulls out a 5-O badge and gives it to Catherine. Catherine jokingly asks if he deputizing her, but Steve ask it's just in case. Catherine says she'll fine one last time before kissing Steve goodbye. 
Catherine walks into the private club, held on a docked ship, and spots her target easily, it's Nabushi. She notices that he just lost a game, she moves closer and says betting against the table hasn't been working for him. She then leans In and whispers in his ear that maybe he could get lucky some other way and walks away. Nabushi trails after her.
Catherine leads him to a deserted bathroom and gives Nabushi a seductive look when he finally catches up to her. She walks up to him and holds out her hand. Nabushi goes to kiss it and asks if they're met before. Catherine spins him around and pins him to the wall with a gun pressed to the side of his face. Nabushi asks her what she wants, and Catherine says she wants to know where Riku Sato is. Instead of answering, Nabushi breaks Catherine's hold the two begin to fight. Nabushi has the upper hand at the start before Catherine turns the tables on him. She pins him to the floor with his own baton and then punches him the face. Nabushi asks who the hell is she. Catherine pulls out her badge and asks Five-O and asks again when is Sato.
Catherine has Nabushi is a headquarters interrogation cell. He tells her he doesn't know a Sato. Catherine tells him he doesn't have a very good poker face. She tells him she knows his real name and that he's Sato's moneyman. She then tells him what she knows about his personal life, in depth information on his family. And she knows that he wants out of Sato's crew. She says she can help but first he's got to tell her where she can find Sato. Nabushi asks what she wants with Sato, but Catherine says she doesn't care about Sato, she just wants to ask him about Adam.
Catherine later tells the team that she got a location on Sato and a full surveillance package from Nabushi that includes addresses structural blueprints, security system, and activity logs for his staff. She then hands Steve back the 5-O badge and thanks him for it. Steve tells her to keep it, she needs a job and they need some help. Catherine says yes to joining and Steve welcomes her to 5-O.
In "Akanahe", Catherine is with Steve, Chin and Kono in Japan as they capture Sato and bring him to a warehouse. Kono questions Sato to the location of Adam. When Sato doesn't answer, Kono presses a gun to his head and asks if Adam is dead. Again Sato won't talk. Steve then pulls Kono's gun away and says they're going to this the right way. Catherine holds a voice recorder towards Sato and tells him to confess to the murder of Adam. Everyone is shocked when Sato reveals that out of respect to Adam's father, he helped Adam fake his death and disappear. Sato then tells Kono if Adam was smart he'd never show his face again and if she was smart she'd let it go. After they've done speaking, Catherine and Steve take Sato to the drop point and say they'll meet Chin and Kono at the plane.
Catherine is with Chin when Steve calls about the kidnapping of Ian Wright. She hears the EMT say that Steve's injury is only a flesh wound, she quickly asks if he's alright. Steve says he's fine and that he's sent her the fingerprints of two of the kidnappers that were killed. Steve asks her to find out who they were.
Catherine finds out who introduced Ian and the bank robbing crew. She tries to get the information to show in the big monitors but is unable to swipe it from her tablet. Chin helps and tells her she'll get the hang of it, she says she ruined her own dramatic entrance with a smile. She then explains her suspect, Eli Diamond.
When the team figures out Ian's plan, Steve tells Catherine to call the security department to tell them their systems been hacked. She quickly does that.
Later when Steve and Grover have tracked Ian to the airport, Catherine calls Steve that she's reached out to Naval Intelligence and they've been developing protocols to defend against these types of cyberattacks. The Navy is sending her a copy of the prototype, however, it's only been tested on simulated attacks. All they need to do is get the prototype onto Ian's computer to stop the hack. Steve tells Catherine that they don't have the computer of origin, they only have Grover's daughter's computer. Catherine corrects them, mentioning that the two computers are connected and she just needs to use one to get to the other. Catherine tries to find the original computer but Ian has scrambled the IP addresses and she can't get a lock. 
Steve calls Catherine back and tells her to check out the IP addresses, and to see if any are near Oahu State. Catherine finds the correct computer at the computer science building of Oahu State. She then tells Steve she's on her way there now.
Catherine enters the computer science building and searches the computers. She notices one teenager just sitting at a computer reading a magazine. She walks up to him and asks what he is doing. The boy says he's saving the computer for a friend, he paid him $500 to save him the computer. Catherine shows him a picture of Ian and asks if that's his friend. The boy says yes and Catherine tells him to get up and out of the seat. She then sits down and plugs the USB with the prototype on it into the computer. When the prototype is finally unloaded she answers Steve's phone call to tell him he can arrest Ian now. 
She later tells Steve and Grover that they made the right decision by putting Ian on that plane in the first places even if he got away. 
In Ha'uoli La Ho'omoaika'i, Catherine is playing in a thanksgiving family football game with the team, Grace, Kamekona and other family members. During one play she catches a throw by Steve only to be be picked up by and thrown over Danny's shoulder a moment later.
Danny and Steve meet Catherine at the crime scene and them what she knows so far. A body was found in a barrel filled with lye. Back at headquarters, she brings results back from Max's autopsy and something found in the victim's neck. She hands it to Steve who sees that it's a medical alert id, the victim was Kyle Russo and he was secret service.
Steve and Catherine go to the hotel where the secret service are preparing for the arrival of the president. They speak to Russo's supervisor, Devin Campbell, telling him that Russo was murdered the night before and it looks like it was a professional hit. The conservation leads Campbell to believe that they now have a threat to the president. 
Later on, Aunt Deb is leaving police station, when Catherine comes up to her and introduces herself as Steve's friend. Aunt Deb doesn't believe that for a second and they both laugh. Catherine tells her that Steve has asked her to take her back to Steve's place, Aunt Deb asks if Steve told her anything else. Catherine pauses before saying she is so sorry to hear about her illness. Aunt Deb then says she's not ready to go back yet, Catherine asks her where she wants to go. Aunt Deb asks Catherine to take her to the most beautiful place on the island. Catherine says she knows just the place.
Catherine takes Aunt Deb to a beautiful deserted beach. While there Aunt Deb says to Catherine that she figures Catherine is going to be around for awhile and asks her to make sure Mary and Steve stay close once she's gone. They'll need each other even if they don't admit it. Catherine says she promises and Aunt Deb thanks her.
After dropping Aunt Deb back at Steve's, Catherine is back at headquarters. Steve calls her to ask about Andrea Hicks, Catherine explains that according to the FBI Andrea witnessed the murder of a high-ranking member of a Russian crime family. The FBI wanted to talk to her, but instead she went into hiding. The family hired a hitman to shut her up for good. Steve asks Catherine to keep looking for Andrea. 
Catherine is at Steve's house when he gets back from meeting the president, she greets him with a kiss. She is also there when Thanksgiving dinner plans are changed, she and the group end up at La Mariana Tiki Bar. She and the group enjoy a song sung by Aunt Deb.
In Makani 'Olu a Holo Malie, Catherine is at Steve's house with all their friends playing poker. In the middle of a hand, she gets a phone call. She is unable to hear the other person, so she excuses herself and goes outside. Steve follows her out and asks if everything is okay. Catherine ignores him and speaks Pashto to the person on the other end of the call. Catherine says she needs Steve's help.
Catherine and Steve are at Headquarters where Catherine tells Steve the story of Amir and his family that helped her when an op of hers went sideways. Catherine then tells Steve that Amir called her because his son was taken by the Taliban and Catherine has decided that she has to go back and help them get their son back. Steve says he understands wanting to help, but she needs to tell the military and let them handle it. Catherine disagrees and says that it'll take to long as the military has to verify everything Amir said to her and that could take days or weeks, while she could be there by dawn. 
Steve asks how she could do that, as she's not on active duty anymore. She can just jump on a plane and get there. Catherine says that's where Steve comes in, and Joe White comes in. She needs Steve to talk to him and get her into Afghanistan under the radar. When Steve tells that that's crazy, she tells him she's doing it with or without his help. Steve reluctantly says he'll call Joe. Catherine thanks him.
Catherine is waiting in line to board a plane at the airport when she hears Steve call out from behind her. He tells her that he wasn't going to let her go alone. He gives her a hug and a kiss, then tells her he's got the window seat.
In the Baoakhan Province, Catherine and Steve ride into the village on horseback. They quickly make their way to Amir's house, his wife lets them in. Amir's wife, Farah, hugs Catherine and Catherine introduces Steve to her. She then asks where Amir is. Farah says he left an hour before, having heard where the kidnappers were. 
Steve and Catherine leave the village on horseback to track down Amir. They stop at the sight of blood and they both dismount to continue on foot. They find Amir at the base of a tree, unconscious and badly wounded. Catherine goes to him and tries to wake him up. Amir wakes and is surprised to see Catherine has come. Amir explains that he tried to rescue Najib, but there were to many for him to fight which caused his GSW to the stomach. Catherine holds his face and promises that she and Steve were going to get his son back.
Catherine and Steve bring Amir back to his house and tend to his wound. Catherine then spots a worn soccer ball and explains to Steve that this is what brought her, Amir and Naji together. Steve is confused and says he thought battlefield trauma is what brought them together. Catherine tells Steve about meeting Amir and Najib and helping them a year before they found her and helped her. Amir then wakes up and asks about Najib, Catherine promises that their going to find him. Steve asks Amir if he knows which group took Najib. Amir replies that it was a splinter group under the command of Umar Hassan. Catherine says that's impossible as Umar Hassan was killed two years prior in a drone strike. Amir is convinced he is alive and his men took his son. 
Catherine is on her laptop and asks Steve to take a look at a satellite image of a nearby village. Steve notices two pickup trucks in the image - Amir had said Najib was taken by two pickups. Catherine says it's got to be the kidnappers. Steve says the village looks fortified and he doesn't think they can take it. Catherine agrees and says their best option is to engage them somewhere along a nearby road. Steve asks way she's so sure they take that road when they move out. Catherine says that Amir mentioned rumors of a Taliban camp in the south and the road is the only way to get there.
As the pickup trucks are stopped by Steve in disguise, Catherine, who was hiding in the long grass, makes her way to the last pickup. She pulls up the back flap and finds a large group of children. She asks the children if anyone has seen Najib, the children shake their heads. She then opens up the back of the pickup and helps the children escape. One child falls down, alerting the driver, who exits the front of the pickup with his gun. Catherine quickly shoots him down but that alerts the rest of the kidnappers. Steve and Catherine engage in gun fire, Catherine manages to shoot down another kidnapper and calls from Steve. He tells her to get the kids and go. As the last kid moves into the long grass, Steve shoots a man that Catherine didn't see. Catherine can then only watch as Steve is injured by a grenade and captured. 
Catherine is back at Amir's village, she calls Danny on her SAT phone, and tells him that Steve has been captured by the Taliban. She then telsl Danny that he needs to get ahold of Joe White and tell him that Umar Hassan is still alive and that there is a Taliban compound in the Panjshir Valley. She then tells him the coordinates of the compound. She tells him that's she's alright at the moment but she has to go and hangs up, Hassan's men have driven into the village.
Catherine calls Steve when he gets back home, he's relieved to hear her voice. He asks her where she is and if she's okay. Catherine says she fine, she tells him that Hassan's men came into the area and she had to lay low until they left. Steve asks about the kids and if Najib was with them, and Catherine says they're safe but Najib wasn't with them. She then says she's got a lead on where he might be, they may have taken him over the border. Steve then asks her if she's going to go after him and Catherine says yes, she has to. She feels she can't come back until she finds him. 
Steve says that's fine, and that he'll go back and they'll find Najib together, he'll help her find him. Catherine tells Steve that he's helped her enough and it's better if she does this alone, she can keep a low profile and it's just easier. She ask him if he understands why she has to do this and Steve says of course he does. Catherine promises him that she'll be careful. Steve tells Catherine that he loves her, Catherine holds back tears as she says she loves him too. Steve then wishes her good luck and they hung up. Catherine jumps onto a motorcycle and drives out the village.
Season 5
[
]
In Ka Hana Malu, Catherine is only seen in a flashback of her and Steve's time in Afghanistan, as Steve explains to Deb that Catherine had completed her mission of finding Najib. But instead of coming back to Steve she had decided that she felt her time was better spent in the small village teaching the children at a school and protecting them if the Taliban came back for them.
In A Make Kāua, Catherine surprises Steve when he gets out of the water from his morning swim, holding his towel she asks him if this was what he was looking for. Catherine walks towards Steve and says she knows she should have called and she wanted to, she just didn't know what to say. So she figured if she just came in person that it would be okay, Steve cuts her off by pulling her into a hug.
Steve asks when did she get in, Catherine tells him only that morning and she had come straight from the airport. She tells him that he wasn't going to miss Kono's wedding. Steve tells her it's good to see her, Catherine tells him it's good to see him too. Steve then says he'll take her out to breakfast, as they've got a lot to catch up on. Catherine says she'd love that. Steve's phone then rings, he's got a case. Steve tells Catherine not to go anywhere, she says she won't.
Steve then calls Catherine to discuss the missing warhead. Catherine says the bad guys either don't care about getting caught or they're not planning on sticking around for very long. Catherine says she'll try and gather some intel, see if there's been any chatter about transportation or sale of a nuclear weapon. As soon as she hears anything she'll call Steve. Steve thanks her and Danny tells her it's nice to hear her voice, she tells Danny it's nice to hear his voice too and then hangs up.
Later Catherine calls Steve, who puts her on speakerphone, she tells them that she thinks she found a buyer and she just sent them the file. She explains that Hadad has made threats against America, Israel, and Jordan, and if he gets his hands on the nuclear weapon he's guaranteed going to use it.
On Kono's wedding day, Catherine shows up at Steve's place rocking a beautiful blue dress, all Steve can say is wow. She tells Steve that he looks very handsome as she buttons up his jacket. Steve thanks her and tells her she looks beautiful, she thanks him. Steve asks Catherine how long is she planning on staying after the wedding. Catherine doesn't know and asks Steve how long does he want her to stay. Steve's phone then rings, Catherine smiles and tells him he's saved by the bell.
Catherine is at headquarters with the rest of Five-O as they try and find the nuclear weapon hidden somewhere on the island. Catherine and Kono then follow Steve and Danny as they chase down the tour tram the nuclear warhead is on. Kono and Catherine help get people off the tram as Danny and Steve search for the warhead. Catherine then leads Steve who's driving the tram to Kamekona's helicopter so they can drop the warhead into the water. Kono and Catherine watch as Steve and Danny out over the ocean, Kono grabs Catherine's hand for support. Catherine hugs and kisses Steve when he and Danny touch down again.
Five-O quickly make it back in time for Kono's wedding, they're only a little late. As they sit down, Catherine tells Steve that she missed him. Steve says he missed her too.
Season 6
[
]
In Mai ho`oni i ka wai lana mâlie, Catherine is at Kono and Adam's wedding reception, with the rest of Five-O. As Kono and Adam share their first dance, Catherine sits at one of the tables with the rest of Five-O and listen to Chin explain what Gabriel said before the wedding. Catherine points out where they and says she's not downplaying how serious the Gabriel situation is, but Gabriel can wait a few more hours. The others agree and all go to find their dance partners.
She then turns to Steve and asks if he's still got it, he stands up and he does but does she still got it. Catherine tells Steve to bring it as they walk onto the dance floor. Catherine asks if they're going to do this and Steve say yes, before leaning over and kissing her in the middle of the dance floor. Catherine tells him it took him long enough, they then join everyone that's dancing to the song We Are Family.
The next day Catherine wakes up, hungover still in her dress, next Steve, who is also hungover in his tux, in his bed as he answers his phone. When he hangs up, he says to Catherine that he was hoping that they could speak together that morning. Catherine says they will and she'll still be there when he gets back from working the case.
In Lehu a Lehu, Catherine is with Five-O as they investigate the car bomb crime scene. She asks if anyone has taken credit for the bomb, but no one has.  
Later in the day, Catherine is at headquarters with everyone, she volunteers to go through all of Jason Duclair correspondence he's gone since going to prison. Steve say that would be very helpful and thanks her. Catherine does finds a person of interest, who had been sending love like letters to Duclair.
Catherine is geared up with Chin and Grover outside headquarters as they find who sent the car bomb through security cameras. They ID the man as Andre Trout but now need to figure out the connection between Duclair and Andre.
Danny calls Catherine when him and Steve lose Duclair, Catherine uses the GPS in Duclair's shoes to track him and tells Danny where to go.
That night Catherine enters Steve's office and asks if he's found anything. Steve says he's got nothing, Catherine tells him the best thing he can do now, is to come home and get some rest. Steve tells her that with Gabriel out there and now that they've lost Duclair there's no way he could go home and just sleep, Catherine says she thought he might say something like that, the job always comes first. Catherine says she'll go and get him some coffee if he's going to burn the midnight oil. Steve stops her before she can leave and says he was really hoping that they could've spent some more time together. Catherine says they will, and Steve thanks her for coming home. Catherine kisses Steve on the forehead and tells him there is no other place she'd rather be.
In "Ua 'o'oloku ke anu i na mauna", Catherine wakes up naked with Steve in his bed. She apologizes for waking him up so early but he says he's glad she did. She tells him to go back to sleep and she'll make them some eggs for breakfast. She puts on a shirt and leaves the bedroom.
Catherine is sitting on a lounge chair speaking to someone on the phone in Pashto, she doesn't notice that Steve has heard her and is watching her from the second floor, with a frown on his face.
Later in the day, Danny asks Catherine to meet him, she hugs him when he gets out of his car. Catherine asks if everything is alright, Danny says it he just thought that they should have a conservation. Catherine is confused and asks Danny to just bring when he dances around the reason for the meeting. Danny says that Steve has been really happy since she's been back, Catherine says she has too. Danny says that great because Steve likes it when Catherine is happy.
Catherine says she is happy, Danny tells her not to leave again if she is happy. Catherine asks where did that come from, and asks if Steve knows that Danny is speaking to her. Danny says Steve doesn't know and he'd kill Danny if he did know. Danny tells her he's just looking out for Steve, and that when she left last time, Steve was hurt pretty bad. He tried to pretend that he wasn't but he was suffering in silence.
Catherine says she didn't mean to hurt Steve, but he did understand why she had to stay behind in Afghanistan. Danny says that yes Steve understood but that didn't mean that it didn't wreck him. Danny says he didn't know what Steve was like before he met him, but Steve is the best version of himself when Catherine is around. Catherine tells Danny he's a good friend. Danny says he just thinks Steve deserves to be happy after everything he's been through. That's why he's here asking her to stick around for good, Catherine says there nothing she wants more.
Later on, Catherine is sitting on Steve's porch with her bags packed, Steve walks up to her and tells him she's sorry. Steve says she just got here, Catherine says it's not that she doesn't love him because she does. However she has to go away for a little bit, Steve asks how long,  Catherine says the truth is, she doesn't know. Catherine starts to cry and says this is so hard. She tells Steve she needs more than what a relationship can give her at the moment. Steve says okay and asks what does she want.
She says she needs to feel needed, which Steve points out she is, Catherine tells him not like that. She explains that every time his phone rings, Steve is needed and he gets to help people she wants that. Steve says for her to come back to Five-O, Catherine says no and says that Five-O is Steve's and it's always going to be his thing. She wants to build something that's her own.
Steve sits down beside her and asks if she going back to Afghanistan, Catherine says she going to Nepal to run supply drops to areas that need it the most after the earthquake. Steve tells her that is a two month operation at most; Catherine says it could be more. Steve then tells her if she wants out of their relationship to just come out and say it. Catherine tells if she could be in two places at once she would, but Steve tells her she's picking the place that he's not going to be.
He then tells her if she leaves today, he needs her to understand that he can't wait for her anymore. Catherine wipes away some tears and says she understands. Steve says that he'll drive her to the airport but Catherine says she's already called a ride that pulls up at that moment. She tells him she'd rather say goodbye to him here. They both stand up and Catherine pulls Steve into a hug and says she's so sorry and that she'd always love him. She grabs her bags and gets into the car.
While in the car, Catherine break down into tears as she remembers all the good times with Steve. She manages to pull herself together to make a phone call. When the other person answers they ask if the line is secure and ask about her cover. She says Steve didn't question it, the person then asks if she's sure she can do it and to call her lieutenant, hinting that her new mission is Navy based.
In "Waiwai", Steve is told that Catherine is not doing aid work in South Asia. Instead, she is doing a deep cover op in the city of Kiev in Ukraine. Steve is asked if he has anyway to reach her, as she is not scheduled to check in with her handler until the end of the week and by then it may be too late.
Season 7
[
]
In "Ka Makuahine to Me Ke Keikikane", Catherine returns to tell Steve that her mother, Doris, has been captured by the CIA trying to get Wo Fat's father out of the CIA and FBI deficiency site.
Season 8
[
]
In "He Lokomaika'i Ka Manu O Kaiona", Catherine arrives on the island, after discovering ancient Hawaiian paraphernalia in the belongings of a recently-deceased terrorist. She asks for McGarrett's help, in going to forbidden Kahoolawe, to track down a terrorist, and retrieve depleted uranium from an old WWII bunker. Jerry tags along, and Steve and Catherine wind up falling into a spike pit, and being robbed. None the less, the mission is a success, and they celebrate with drinks at Kamekona's at the end of the episode.
Season 9
[
]
In Hala i ke ala o'i'ole mai, Catherine is seen in Montana with Steve at Joe White's house, helping create a plan to find the individual who ordered the deaths of Joe White and two other SEALS McGarrett had worked alongside. While when she arrived exactly is unknown, based on the amount of planning they did for the op, it suggests she has been there for quite some time. Danny arrives at the ranch and is informed of the plan. They are next seen arriving at an airport with a Coast Guard plane that is to be flown by Frank Bama's daughter. Junior and retired SEAl, Commander Wade Gutches, meet them by the plane. Gutches greets Rollins with a big hug. On the plane ride there, Catherine reassures Steve that they will catch the people responsible and that she is in this with him "until the end". The team is next seen meeting Harry Langford in Laos who is to help execute the operation. Catherine and Steve go undercover as a married couple to determine the location of Omar Hassan's hideout.
After discovering his position, the team is seen preparing for an operation to break in and capture Hassan, as well as to determine the location of former CIA agent Greer. Steve is distraught by everything that has occurred and is consoled by Catherine, who reveals in their conversation that she knew about Steve and Greer's "fling." When asked by Steve why she never mentioned it, she says that she didn't believe what Greer had said about Steve when the two women met years prior at the pentagon. Their conversation is cut short because the team now has to begin their mission.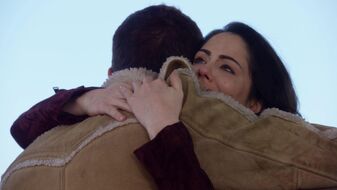 Everything goes according to plan until Danny and Catherine are temporarily held by the security team there, but are assisted by a friend of Harry's; the team then captures Hassan. Steve and Catherine are next seen in China at Greer's location. Upon Greer raising her gun to shoot Steve during the confrontation, Catherine shoots Greer and kills her instantly. After this event, the team is back at the airport. Gutches shares a private conversation with Steve and encourages him to settle down. After saying their goodbyes, Catherine and Steve share a heartfelt conversation, in which Steve reveals that Joe was the one who encouraged him to ask Catherine out. The scene is a flashback to season 8, episode 24. Joe says, "that woman's [Catherine] a keeper." During this flashback sequence, the audience also sees when Steve calls Catherine and asks her out to the Army-Navy gala that would be held at West Point. He clarifies that they wouldn't be going as friends, that this was him asking her out on a date. Catherine is caught off guard but replies with, "what took you so long?" After the flashback, Catherine is seen tearing up by this story about how he [Joe White] helped change the course of their relationship. She tells Steve that she was really glad that he took his advice, and Steve replies with, "I am too." They share a heartfelt hug, and before departing to her car, Catherine tells him, "until next time."    
Season 10
[
]
In "Aloha' Goodbye, Catherine is mentioned during a conversation between Steve and Lincoln while they were on their way to meet Lincoln's NSA contact to help crack the cipher left by Doris McGarrett. During this conversation, Lincoln mentions another person who could help-- a Naval intelligence officer he met a few years ago who is super smart, but that he lost track of her. Steve then asks if her name happened to be Catherine Rollins, in which Lincoln replies smiling with "you know her?" Steve smiles, and says "yeah, she was my girl, we were together for a bunch of years." Lincoln then says "it sounds like it was serious." Steve comments on how she was the one who got away. Later in the episode, after Lincoln's NSA contact is killed, he contacts Catherine to crack the cipher, and her role in doing so is revealed on the plane later when she meets up with Steve, indicating that Lincoln had a role in their reconciliation.
At the very end of the episode, Catherine reunites with Steve while on a United Airlines plane going to an unknown location. As Steve looks out the window, a figure appears from the corner asking "is this seat taken?" Steve is surprised by her presence, and responds with "Catherine," who responds with a classic line between the two "hey sailor." He pauses, then realizes that once again, she helped the team; "it was you, you cracked that cipher?" he asks. Catherine nods and tells him that "Lincoln got a hold of me, said you guys needed some help." Steve realizing what Lincoln did for him says "He's a good man." Catherine then remarks on how he must be since Steve gave him the keys to Danno's car. He makes a joke about how Danny shouldn't be driving his own car in which Catherine responds "like he ever did." They both laugh, and Steve asks her if she's going to sit down, in response, she sits in the empty seat next to him. There's a brief pause. She asks him if he's ready, he says yes, and takes her hand; reconciling their relationship.
Awards and Decorations
[
]
The following are the awards and decorations worn by Lt. Rollins.
Personal Decorations
Navy and Marine Corps Commendation Medal, w/1 gold award star (2 awards)
Navy and Marine Corps Achievement Medal, w/1 gold award star (2 awards)
Unit Awards
Navy Unit Commendation, w/1 bronze service star (2 awards)
Meritorious Unit Commendation
Campaign and Service Medals
National Defense Service Medal
Armed Forces Expeditionary Medal, w/1 bronze service star (2 awards)
Global War on Terrorism Expeditionary Medal
Global War on Terrorism Service Medal
Service and Training Awards
Navy Sea Service Deployment Ribbon, w/1 bronze service star (2 awards)
Marksmanship Awards
Navy Expert Pistol Shot Medal
Other Accouterments
Abilities
[
]
Hand to Hand Combat -
Languages - English, and Arabic
Notes
[
]
In Na Ki'i, it was revealed that Catherine used to ice skate.
Catherine risked being court-martialed for helping Lieutenant Commander Steven McGarrett with a civilian situation. [1]
Catherine graduated from the United States Naval Academy (which is hinted as being where she met Steve).
Unlike Steve McGarrett, Catherine Rollins and Billy Harrington both retired from the military, instead of joining the Reserves. [2]
Catherine is honorably discharged from United States Navy and is awarded her second Navy and Marine Corps Achievement Medal as an end-of-tour award. [3]
Steve McGarrett was going to propose to her. [4]
In Season 4 she drives a light blue stingray with the license plate EOY-603
During her tenure on the team, Catherine wore a shoulder leather holster.
Used a Smith & Wesson M&P as her personal sidearm.
Has a Compact .32 ACP pistol (Seecamp LWS-32) which is seen in the Season 4 episode, Ua Nalohia.
When Catherine was working security with Billy Harrington her code name was "Little Wing"
Commander Steven McGarrett was not court-martialed after Afghanistan due to the fact that he and Catherine had entered the country as civilians without any intentions of using military equipment or information. However, after being attacked and Steve's capture his military rank was discovered. Even after severe torture, and the threat of death he did not reveal any military secrets or information. The last part of his torture and execution was being recorded by camera, to which the military had gained access. Steve was rescued by his fellow Navy SEALs seconds before his own decapitation.[5]
Trivia
[
]
Michelle Borth was originally a recurring guest star up until the Season 3 premiere, La O Na Makuahine where she became a series regular.
Catherine Rollins was originally supposed to make her debut appearance in the pilot episode, but her first appearance didn't occur until episode 4.
 
Appearances
[
]
Season One
Pilot
Ohana
Malama Ka Aina
Lanakila
Nalowale
Ko'olauloa
Ho'apono
Mana'o
Po'ipu
Heihei
Palekaiko
Hana 'a'a Makehewa
Ke Kinohi
He Kane Hewa'ole
Kai e'e
E Malama
Powa Maka Moana
Loa Aloha
Ne Me'e Laua Na Paio
Ma Ke Kahakai
Ho'opa'i
Ho'ohuli Na'au
Ua Hiki Mai Kapalena Pau
Oia'i'o
Season Two
Ha'i'ole
Ua Lawe Wale
Kame'e
Mea Makamae
Ma'eme'e
Ka Hakaka Maika'i
Ka Iwi Kapu
Lapa'au
Ike Maka
Kil'ilua
Pahele
Alaheo Pau'ole
Ka Ho' Oponopono
Pu'olo
Mai Ka Wa Kahiko
I Helu Pu
Kupale
Lekio
Kalele
Ha'alele
Pa Make Loa
Ua Hopu
Ua Hala
Season Five
A'ohe kahi e pe'e ai
Ka Makuakane
Kanalu Hope Loa
Ka Noe'au
Ho'oilina
Ho'oma'ike
Ina Paha
Ka Hana Malu
Ke Koho Mamao Aku
Wawahi moe'uhane
Ua'aihue
Poina 'Ole
La Po'ino
Powehiwehi
E 'Imi pono
Nanahu
Kuka'awale
Pono Kaulike
Kahania
Ike Hanau
Ua helele'i ka hoku
Ho'amoano
Mo'o 'olelo Pu
Luapo'i
A Make Kāua
Season Six
Mai ho`oni i ka wai lana mâlie
Lehu a Lehu
Ua 'o'oloku ke anu i na mauna
Ka Papahana Holo Pono
Ka 'alapahi nui
Na Pilikua Nui
Na Kama Hele
Piko Pau 'iole
Hana Keaka
Ka Makau kaa kaua
Kulean
Ua Ola Loko I Ke Aloha
Umia Ka Hanu
Hoa 'Inea
Ke Koa Lokomaika'i
Ka Pohaku Kihi Pa'a
Waiwai
Kanaka Hahai
Malama Ka Po'e
Ka Haunaele
Ka Pono Ku'oko'a
I'ike Ke Ao
Pilina Koko
Pa'a Ka 'Ipuka I Ka 'Upena Nananana
O Ke Ali'I Wale No Ka'u Makemake
Season Seven
Makaukau 'ce e Pa'ani
No Ke Ali'i' Wahine A Me Ka Aina
He Moho Hou
Hu a'e ke ahi lanakila a Kamaile
Ke Ku 'Ana
Ka hale ho'okauweli
Ka makuahine a me ke keikikane
Hana Komo Pae
Elua la ma Nowemapa
Ka Luhi
Ka'ili aku
Ka 'Aelike
Ua ho'i ka 'ōpua I Awalua
Ka laina ma ke one
Ka Pa'ani Nui
Poniu I Ke Aloha
Hahai i nā pilikua nui
E mālama pono
Puka 'ana
Huikau nā makau a nā lawai'a
Ua malo'o ka wai
Waimaka 'ele'ele
Wehe 'ana
He ke'u na ka 'alae a Hina
Ua mau ke ea o ka 'aina i ka pono
Season Eight
Fire Will Never Say that It Has Had Enough
Dog Days
Your Knife, My Back. My Gun, Your Head
No Matter How Much One Covers a Steaming Imu, The Smoke Will Rise
At Kama'oma'o, The Land of Activities
Unfolded by the Water are the Faces of the Flowers
The Royal Eyes Rest Above
The Trail Leads To A Diving Place; Do Not Follow After
Death at Sea
The Future is in the Past
A Tall Tree Stands Above the Others
The Round Up
What is Gone is Gone
The Children of Kalaihaohia
A Coral Reef Strengthens Out into Land
Only the Stars of Heaven Know Where Pae Is
The Fire Blazed Up, Then Only Ashes Were Left
To Do One's Duty
No One Has Ever Died For the Mistakes He Has Made; Only Because He Didn't Repent
Kind Is the Bird of Kaiona
The Answer to the Riddle is Seen
Though the Fish is Well Salted, the Maggots Crawl
What Parents Will Do, Children Will Do
The Tough Branch That Does Not Break in the Kona Gale
Ancients Exposed
Season Nine
Cocoon
The Man Who Fell from the Sky
When the Sea Draws Out the Tidal Wave, the Rocks Where the Cowries Hide Are Exposed
On the Slope of the Cliff, Not One Jutting Rock is Hidden from Sight
Nothing More the Eyes to Search For
Is Borne on the Back; Is Borne in the Arms
The Smoke Seen in the Dream Now Rises
Birds of a Feather...
Truth Comes from the Night
When the Light Goes Out, the House Is Dark
Gone on the Road from which There Is No Returning
A Bruise Inflicted on an Innocent Person Vanishes Quickly
Those Above are Descending
Depressed with the Heat of Kealwalua
Made Prisoner by the Reign of the Rain
When Covetousness is Conceived, Sin is Born
Offer Young Yaro Leaves to
He Who Eats 'Ape is Bound to Have His Mouth Itch
The Octopus of the Deep Spews It's Ink
Way of the Gun
Offspring of an Owl
The Teacher, the Pupil - Let it Come Forth
A Stranger Only for a Day
The Hand is at Fault
Endlessly Pours the Rain of Waianae
Related Pages
[
]
References
[
]