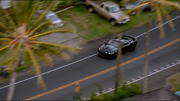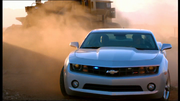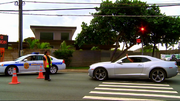 The Chevrolet Camaro is a car that is owned by the second-in-command of the Hawaii Five-O Task Force, Detective Danny Williams, replacing the Mustang GT 5.0 that Danny originally drove in the pilot with his partner, Lieutenant Commander Steve McGarrett usually driving it despite Danny having insisted on occasion that it is his car.
It's equipped with police lights, loud sirens and a GPS.
With its powerful engine, it has helped give both Danny and Steve an edge over numerous suspects many times.
During the Season 2 episode, Pa Make Loa (episode) which is also a crossover with NCIS: Los Angeles, Special Agent Sam Hanna suggests "Winifred" as the name (Winnie for short), while Danny suggests "Misty".
In the Season 4 premiere episode, Aloha ke kahi I ke kahi (episode), members of the terrorist group National Liberation Movement(NLM) led by El Condor, threw a grenade at the first Camaro, eventually destroying it and much to the dismay of Danny blaming Steve for what was going to happen. Makes a cameo in the series finale like a disaster in a car junkyard.
In the next episode, A'ale Ma'a Wau (episode), the silver Camaro's replacement was introduced: a black Camaro, the 2014 Camaro SS model (possibly) with the 1LE Package.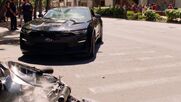 In A Stranger Only for a Day, a black 2019 Camaro SS was introduced to replace the 2014 Camaro SS. It retains the same license plate as its predecessor.
In the series finale, Season 10 episode Goodbye, when Daiyu Mei (Wo Fat's wife) ordered his men to follow Danny, then he starts shooting at the windshields, then they kidnap Danny, then they throw a Molotov Cocktail at the second Camaro (rather, it is revealed to be a 2010 model in disguise), finally destroying it, when Steve and Lincoln find the Black Camaro torched and destroyed (similar to Steve's Blue Silverado), they discover that Danny was kidnapped, it is later revealed that the kidnapping was ordered by Daiyu Mei in exchange for the cipher of Doris McGarrett, Steve's mother, for the life of Danny.
License plate in 1.08 & 4.14 : DV2 399
Contains:
[
]
Gas masks (1.07 & 2.17).
Steve's SEAL dive/swim gear (1.07 -dive bag, mask, weights & 1.10 fins, dive light).
Tac vests. (multiple)
Picture of Grace and postcard of New Jersey tucked into drivers side sun visor (1.09).
Danny's surfboard (implied in 1.15 since he is learning to surf from Kono)?
Grenade (1.17).
Large Rock stuck in front window. Smaller rock through the back window. (2.07)
Cell Interceptor (2.13).
Police car GPS locator (2.15)
Tear Gas (2.17) .
Steve's Birthday Cake - shaped like a handgun with buttercream icing (2.19).
Evidence Kits (3.10)
Assault weapons (3.13, 8.1 - harness for carrying included)
Sniper rifle (3.15)
Buck knife (glovebox - 4.11)
A guitar for Steve (5.17)
black t-shirt for Steve
License plate
[
]
Danny's 2014 Black Camaro SS - (DV2 399)
McGarrett's The Marquis - (BOOK EM5) Pilot Episode: ECS 154
Max Bergman's Yellow Camaro - (WARP 9)