'Hawaii Five-0' Profile: Jenna Kaye
Jenna Kaye was a CIA analyst who was on leave to hunt down Wo Fat because he was involved with the killing of her fiancé a highly respected CIA Agent, because of a set up.
Background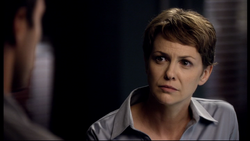 Not much is known about Jenna's life or if her parents are alive or dead but she was first introduced in the episode, Ne Me'e Laua Na Paio where she disguised herself as a field agent with the CIA although she was actually a CIA analyst armed with the tape recorder belonging to Lieutenant Commander Steve McGarrett's father, John McGarrett.
Upon meeting Steve, she told him that the CIA were interested in the Yaukza and sought his files concerning them, even threatening him to do so.
Steve later used a contact of his to dig into Jenna's past and discover the truth which he later confronted with Jenna, making her admit that her fiancé was murdered and the man responsible (Wo Fat) also had his (Steve) parents killed.
As such, Jenna officially joined the team, becoming an assistant to them on some cases with one defining moment being during Ua Hiki Mai Kapalena Pau where her knowledge of lethal toxins helped save Detective Danny Williams life after he was unknowingly infected with sarin.
In Ha'i'ole, it was revealed that Jenna was working with Wo Fat. She later resigned from Hawaii Five-0 at the end of Ua Lawe Wale, having received news that her fiancé was still alive.
Jenna later returned in Kil'ilua where she arrived back in Hawaii to get Steve to come with her to North Korea. Steve went along but soon discovered the horrifying truth: that Jenna had lied to him and that she was actually working for Wo Fat.
Steve was knocked unconscious, captured and eventually tortured by Wo Fat and his men who sought information on the mysterious "Shelburne".
While this went on, Jenna was escorted to see her beloved fiancé but suffered a devastating tragedy when she learned that Josh was actually dead, having died months ago due to extensive torture and poor treatment. Upon realizing that she had been lied to, Jenna locked herself in the cell and called Danny, giving Kono just enough time to trace the call and for the team to arrange a rescue operation albeit one that was off the grid and not official.
Wo Fat's operatives breached the cell, causing Jenna to throw the radio out of the cell and she used the time to remove from Josh's knee. She was eventually thrown into the same cell alongside Steve where she apologized to Steve for misleading him, stating that it wasn't for nothing.
One of Wo Fat's men soon discovered the radio with Jenna later giving Steve the pin which he kept hidden and later used as a means of escaping the chains binding him.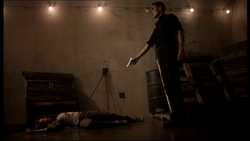 Seconds later, Wo Fat simply produced a gun and shot Jenna twice in the chest, both shots incredibly lethal and killing her instantly while leaving Steve who had witnessed Jenna's death personally vowing revenge against Wo Fat.
In Ina Paha, due to the Hawaii Five-0 Task Force not being created in an alternate reality, Jenna was presumably still a civilian as well as a CIA agent. She was seen at the desk of a hospital, asking for news on her fiancé. She is finally avenged when Steve kills Wo Fat at the end of the episode.
Trivia
Gallery
Appearances
Season One
Pilot
Ohana
Malama Ka Aina
Lanakila
Nalowale
Ko'olauloa
Ho'apono
Mana'o
Po'ipu
Heihei
Palekaiko
Hana 'a'a Makehewa
Ke Kinohi
He Kane Hewa'ole
Kai e'e
E Malama
Powa Maka Moana
Loa Aloha
Ne Me'e Laua Na Paio
Ma Ke Kahakai
Ho'opa'i
Ho'ohuli Na'au
Ua Hiki Mai Kapalena Pau
Oia'i'o
Season Two
Ha'i'ole
Ua Lawe Wale
Kame'e
Mea Makamae
Ma'eme'e
Ka Hakaka Maika'i
Ka Iwi Kapu
Lapa'au
Ike Maka
Kil'ilua
Pahele
Alaheo Pau'ole
Ka Ho' Oponopono
Pu'olo
Mai Ka Wa Kahiko
I Helu Pu
Kupale
Lekio
Kalele
Ha'alele
Pa Make Loa
Ua Hopu
Ua Hala
Season Five
A'ohe kahi e pe'e ai
Ka Makuakane
Kanalu Hope Loa
Ka Noe'au
Ho'oilina
Ho'oma'ike
Ina Paha
Ka Hana Malu
Ke Koho Mamao Aku
Wawahi moe'uhane
Ua'aihue
Poina 'Ole
La Po'ino
Powehiwehi
E 'Imi pono
Nanahu
Kuka'awale
Pono Kaulike
Kahania
Ike Hanau
Ua helele'i ka hoku
Ho'amoano
Mo'o 'olelo Pu
Luapo'i
A Make Kāua
Community content is available under
CC-BY-SA
unless otherwise noted.