Jerry Ortega is a conspiracy theorist who regularly assists the Hawaii Five-0 Task Force with various cases and who once attended high school alongside Lieutenant Chin Ho Kelly.
Biography
[
]
Season 4
[
]
Jerry Ortega made his debut appearance in the Season 4 episode, Ka 'oia'i'o ma loko. Jerry was classmates with Chin Ho Kelly at Kukui High and they were in the school band.
Season 5
[
]
In Ina Paha, in an alternate reality that Steve McGarrett experienced as a result of being drugged, due to the Hawaii Five-0 Task Force not being created and presumably Jerry not eventually socializing with others, thereby improving his social skills, the Jerry of that reality subsequently became a very paranoid man with an undiagnosed mental illness as he was seen repeatedly talking to himself. He was also homeless, presumably suggesting that his mother had also probably kicked him out as she was no longer able to cope with him.
Jerry is a fan of Elvis Presley, which was discovered when Five-0 was called to investigate a murder of an Elvis impersonator in the episode. In the same episode, he shows off his musical talent by singing at the open mic when hanging out with the team for drinks after the case. [1]
Jerry's expertise was brought into play in E 'Imi pono, helping Hawaii Five-0 in deciphering code Julius Brennan's notes that were on his back.
Season 6
[
]
After much pestering,Steve McGarrett finally lets Jerry have his own "office"—an empty file storage room in the basement—and officially hires him as a "consultant", much to Lou Grover's dismay.
Season 7
[
]
In Season 7 episode 21, the Five-0 team gets into trouble while looking for a suspect on an uninhabited island. Jerry knows that they are in trouble, so he calls HPD to get support. After he saves the team, he finally gets his badge from Five-0.
Season 8
[
]
Jerry met a peng ting in an episode

Season 9
[
]
This section is empty. You can help Hawaii Five-O Wiki by editing it.

Season 10
[
]
In The Skin Has Been Hurt by the Point of the Spear, Jerry was shown to have been the one that got shot while saving Steve and decided to resign from the task force to begin writing a book.
Notes
[
]
Jerry Ortega gets his badge from Steve McGarrett and becomes an official member of the Hawaii Five-0 Task Force. [2]
He appeared on the 2016 Reboot of "MacGyver". He reached out to The Phoenix Foundation who took down Codex which Ortega tracked and was contacted by.
Season Four
Aloha ke kahi I ke kahi
A'ale Ma'a Wau
Ka 'oia'i'o ma loko
A ia la aku
Kupu'eu
Kupouli 'la
Ua Nalohia
Akanahe
Ha'uoli La Ho'omoaika'i
Ho'onani Makuakane
Pukana
O kela me keia manawa
Hana Lokomaika'i
Na Hala a ka makua
Pale'la
Hoku Welowelo
Ma lalo o ka ili
Ho'i Hou
Ku I Ka Pili Koko
Pe'epe'e Kanaka
Makani 'Olu a Holo Malie
O ka Pili'Ohana ka 'Oit
{{Season Ten|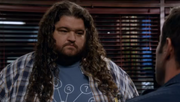 References
[
]